AGPtek Smart Watch LW11 Manual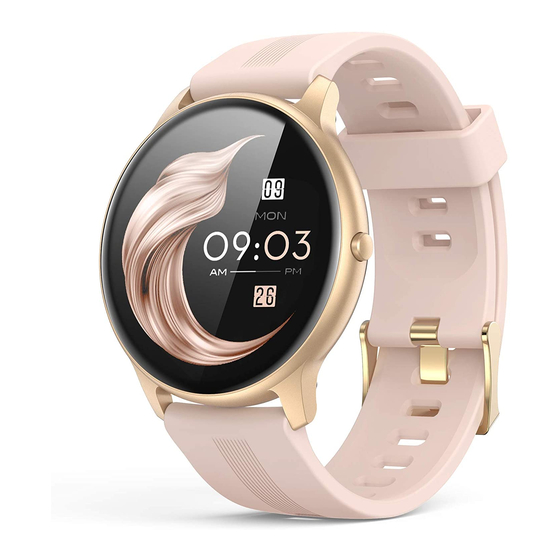 Please read this [user manual] carefully before use and keep it for future reference. Any problem about this product, please contact us at support@agptek.com.
PRODUCT OVERVIEW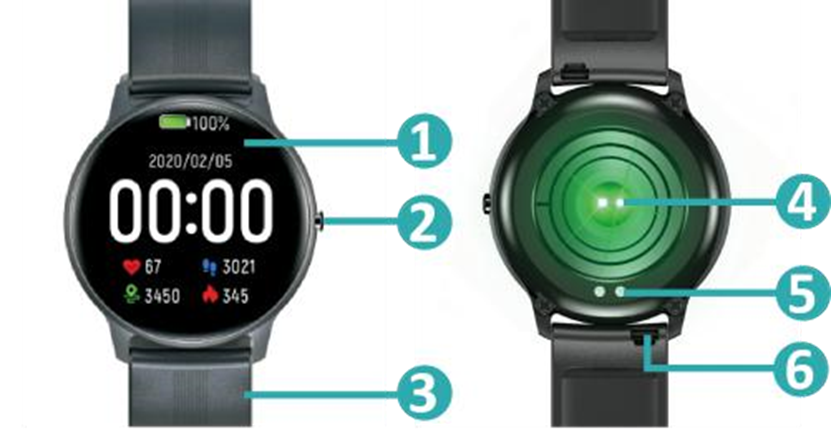 Touch Screen
Power Button
TPU Straps
Optical Sensor
Charging Point
Strap Slot
Note: Long press the power button to turn on/off the watch.
INSTALL WATCH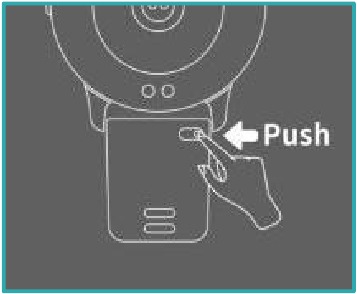 One side of the spring bar should be inserted into the hole of your watch at first.
Simply slide the pin with your finger.
Point the other side of the spring bar at the other hole of your watch.
Release the pin and attach the strap.
CHARGING WATCH
Attach the supplied magnetic charger to charging contact on the back of watch, and insert the other end of the charger into USB wall charger or USB interface of computer.
Note:
Install your watch first, and fully charge your watch before use.
To ensure smooth charging, please put the watch face down during charging. Charging time: about 2 hrs.
DOWNLOAD APP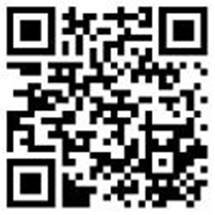 Scan the left QR code.
Find [Settings] > [QR Code] in Watch. Then, tap it & scan the QR Code with phone.
Download "FitCloudPro" from "Apple store" or "Google play store" (Android App store).
Note: Mobile phone must support Android 5.0 or above, iOS 9.0 or above and Bluetooth 4.0+.
BINDING
FIRST CONNECTION

For first use, open App "FitCloudPro", register and login.
Follow the instruction of App to start binding watch. Click [Search Now], and the smartphone will start searching for devices for about 10s that can be connected.
After a successful search, select and click "LW11-xxx" to complete the connection. There are two situations:

iOS: A pairing request will appear, just click "Pair" to connect.
Android: No pairing request, directly connect.

SECOND CONNECTION
Open App, go to [Device] > [+ Add Peripheral Now] > [Search Now]. Follow the above [FIRST CONNECTION] steps 3 to complete the connection.
BASIC OPERATION

On main interface, swipe left to enter daily activity analyse; Swipe right to enter main menu; Swipe up to enter the message list; Swipe down to enter shortcut interface.
MAIN MENU
SPORT DATA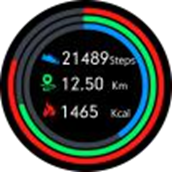 Record your steps, walking distance & burned calories on that day. They also can be viewed after syncing to the App.
SPORTS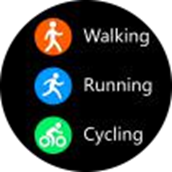 Swipe up/down to cycle through 8 different sports (Run -ning/Hiking/Swimming etc.), and select one of your favorite sport and tap it to start. Find the sport data on the [Sports Record].
HEART RATE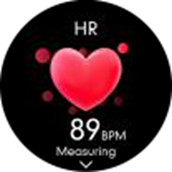 On the heart rate interface, it will enter into the real time monitoring. Swipe up to get the analysis chart of your heart rate. And it can also be viewed in App after syncing.
SLEEP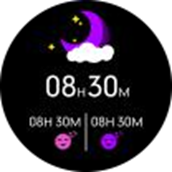 Record your sleep from 21:00 pm to 12:00 am. Sync and update the data to "Sleep" in App through manually pulling down the "Home" page of App.
BP&BO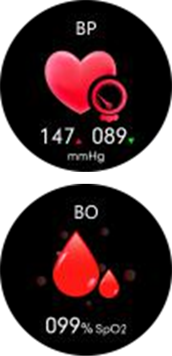 On the blood pressure (BP) or blood oxygen (BO) interface, it will automatically detect your blood pressure or blood oxygen until the vibration is felt, which indicates completing the measurement. Note: Only reference, it cannot be used as a basis for medical related aspects.
MUSIC
After connecting the watch and App, tap Music in main menu to access its function. Tap pause, play, forwards or backwards icon to control the songs on your phone. Swipe right on the screen to exit.
Note: The music interface will not switch during operation, but the watch will vibrate to remind you after you have operated.
WEATHER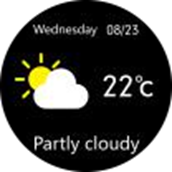 Display the current weather. Only the watch connects successfully to the App, the weather information will be shown or updated in watch. Note: The App should be allowed to access into GPS & Internet of your phone
STOPWATCH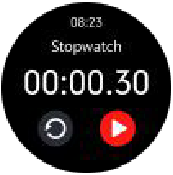 On the main menu, Tap it to access its function, and a new interface displays. Tap
to start, and tap

to stop or tap

to resume. Exit the stopwatch by swiping right on the screen.
TIMER
With 8 timers + a customized timer. 8 Timers are: 1M, 3M, 5M, 10M, 20M, 30M, 1H, 2H. Tap one of timers you want to start. Then, follow the operation of the stopwatch to use the timer.
MESSAGE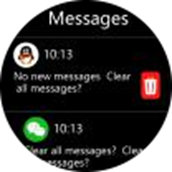 Find message on main menu or swipe up the main interface to quickly access to Message. All notifications of your phone will be automatically synchronized to the watch after a successful connection between watch and App (Ensure enabling all message reminding in App). Swipe up or down to switch messages. Tap the message you want to check to view the whole content of the message.
FIND PHONE
Tap Find Phone in main menu or find its icon by swiping down the main interface to start searching for your phone. When searching successfully, your phone will vibrate or give a ringtone (According to your settings).
SETTINGS
Tap Settings in main menu or find its icon by swiping down the main interface, to access its function. A relative list will show: Display, Vibration Intensity, Language, QR Code, System.
Display. Set Dial Switch, Brightness, Screen Time, Turn Wrist Wake.

Dial Switch.


Watch: 4 Built-in Dials. Tap Dial Switch in the main menu or long press the screen on the main interface to enter. Swipe left/right to switch, and tap one of your favorite dials to confirm.
App: Find [Device] > [Watchface] > [Watchface Store], and click first one dial to start editing. Then, select your favorite picture as background of the main interface and customize it according to your preference. Your set watch face can be found in [My Watchface] quickly.

Brightness. Tap Brightness in the main menu or find its icon by swiping down the main interface to access its function. Tap + to increase the brightness of display; Tap - to decrease it.
Screen Time. Automatically turn off the screen display when reaching the set time (5-9s). Swipe up or down to switch the time, and tap ✔ to confirm your settings.
Turn Wrist Wake. Set the time(2-6s) of screen display when you lift wrist. Swipe up or down to switch the time, and tap ✔ to confirm your settings. Besides, App can set its begin time and end time.

Vibration Intensity. Set the intensity of vibration reminder (0-3), and tap ✔ to confirm your settings.
Language. After a successful connection, the watch will automatically recognize and sync the language of App. If want to make your watch language differ from App, just find Setting > Language in watch, to set language of watch alone.
QR Code. Tap it and scan the QR Code with your phone to download "FitCloudPro".
System. Includes: About, Shutdown, Reset.

About. Display the basic information: Bluetooth Name, Mac Address, Software Version, UI Version.
Shutdown. Turn off the watch.
Reset. Reset your watch.
ATTENTIONS
DON'T use over 5V/2A power adapter to charge it.
This device is is an electronic product, not for medical reference, so the detected data (Especially for blood pressure and blood oxygen) is for reference only.
Blood pressure monitoring method: Quiet rest for over 5 minutes before monitoring. Do not eat, smoke, take medicine and drink coffee for 2 hours before monitoring.
Monitoring process:
Take a comfortable, restful sitting position and keep your mind easeful. Forbidden to speak. Place the watch is at the same height as your heart (as shown on the left).

With IP68 waterproof, sweat proof and rain proof, it can be used directly in daily washing, shower (cold water) and other daily environments.
Do not use in bath, sauna, hot spring or other environments with corrosive liquid and hot steam, which will lead to product failure.
Don't operate the watch underwater.
Do not wear the watch to deep dive.
FAQ
Why the measurement of blood pressure is inaccurate?
Affected by the external environment and the skin color of the individual, so it is only used to monitor changes in blood pressure, which can not really monitor the blood pressure of patients with hypertension.
Why can't I receive the notification?
Android: When you turn on the QQ/Wechat reminder for the first time, the App will get the corresponding permissions automatically.
iOS: (Call, SMS, SNS) When the reminders in the App are turned on, your phone will automatically pop up the accessing request, you just need to select OK.
SPECIFICATIONS
| | |
| --- | --- |
| Waterproof level | IP68 |
| Sensor | 3 Axis G-sensor |
| Sync method | Bluetooth |
| Resolution | 240*240 |
| Display | 1.28'' TFT Full Touch Color Screen |
| Working time | About 8-10 days |
| Working Temperature | -10℃~50℃ |
| Compatible Systems | IOS 9.0 or above; Android 5.0 or above |

Videos
AGPTEK LW11 Smartwatch Review Video
AGPTEK LW11 - How to connect video
Documents / Resources
Download manual
Here you can download full pdf version of manual, it may contain additional safety instructions, warranty information, FCC rules, etc.