Vicks Humidifier V750 Series Manual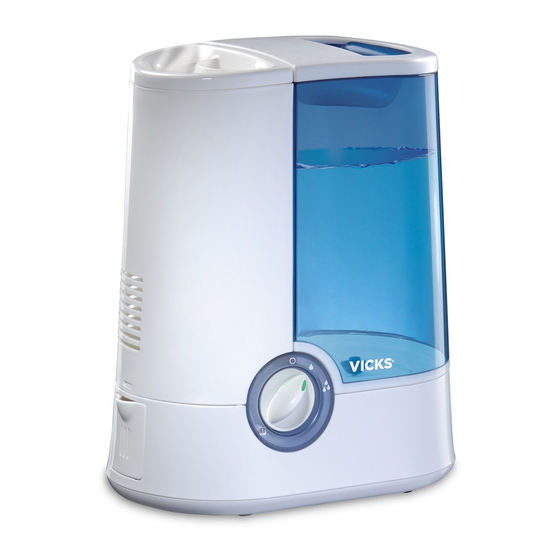 Important Safety Instructions

READ AND SAVE THESE IMPORTANT SAFETY INSTRUCTIONS BEFORE USING THIS APPLIANCE. IF YOU DO NOT UNDERSTAND THESE INSTRUCTIONS OR PRODUCT LABELS DO NOT USE THIS PRODUCT AND EMAIL US FOR AN EXPLANATION.
WHEN USING ELECTRICAL APPLIANCES, BASIC PRECAUTIONS SHOULD ALWAYS BE FOLLOWED TO REDUCE THE RISK OF FIRE, ELECTRICAL SHOCK AND INJURY TO PERSONS, INCLUDING THE FOLLOWING:
This appliance is not intended for use by persons (including children) with reduced physical, sensory or mental capabilities, or lack of experience and knowledge, unless they have been given supervision or instruction concerning use of the appliance by a person responsible for their safety. Children should be supervised to ensure that they do not play with the appliance.
If the supply cord is damaged, it must be replaced by the manufacturer, its service agent or similarly qualified persons in order to avoid a hazard.
The appliance should always be placed on a firm, flat, waterproof surface at least four feet (1.22m) away from bedside, twelve inches (30cm) from the wall and out of reach of patients, children and pets. Be sure the appliance is in a stable position and the power cord is away from heated surfaces and out of the way to prevent the humidifier from being tipped over.
The appliance should not be left unattended in a closed room since air could become saturated and leave condensation on walls and furniture. Leave room door partly open.
Before using the appliance, extend the cord and inspect for any signs of damage. Do not use the unit if the cord has been damaged.
The appliance has a polarized plug (one blade is wider than the other) as a safety feature. This plug will fit into a polarized outlet only one way. If the plug does not fit fully into the outlet, reverse the plug. If it still does not fit, contact a qualified electrician. Do not attempt to defeat this safety feature.
To avoid fire or shock hazard, plug the appliance directly into a 120V AC electrical outlet.
The appliance should always be unplugged and emptied when not in operation or while being cleaned. Shut off and unplug humidifier before moving. Do not move or tilt humidifier while it is in operation. Plug and unplug unit with dry hands. Never pull by cord.
Do not operate the appliance without water. Turn off and unplug unit when tank is empty and the reset light is on.

To avoid the risk of fire, shock or personal injury, do not use an extension cord.
Appliance requires regular cleaning. Refer to and follow cleaning instructions.
Do not operate outdoors; this appliance is intended for indoor use.
Do not cover or insert objects into any openings on the unit.
Do not attempt to repair or adjust any electrical or mechanical functions on this appliance. Doing so will void your warranty.
Do not add any medications (e.g. Kaz Inhalant or Vicks VapoSteam®) into Chimney, Base, Reservoir or Water Tank.
Do not touch the steam vapor. Steam can cause burns. Do not operate without the Medicine Cup in place on top of the Mist Chimney.
When moving or lifting the Tank, use one hand on the Tank Handle and the other on the bottom of the tank.
Do not touch skin with exposed VapoPad or place on furniture, fabric, bedding or plastic.
For Residential Use Only
Vicks® Warm Mist Humidifier (V750 Series)
How it Works:
The Vicks Warm Mist Humidifier is designed to quietly provide visible warm moisture. The tank feeds water into the boiling chamber where it is heated to a steam vapor. The steam vapor mixes with dry air in the mist chimney. The warm moist air is released in the room.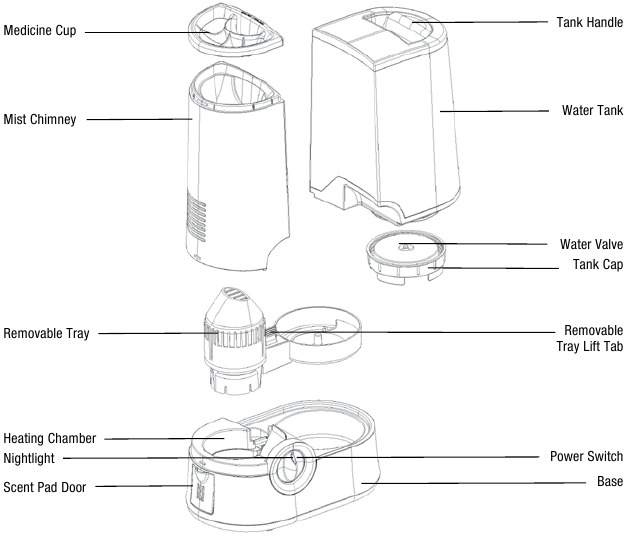 V750 Series Accessories
The following accessories work great with your humidifier. These accessories can be purchased at most major retailers or through Kaz.com.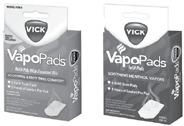 Vick VapoPads®
Scent pads provide soothing menthol (VH5-LA, VSP-19, VSP19FP or VSP-19-CAN) or lavender/ rosemary (VBR-5, in U.S. only) vapors. (One complimentary menthol scent pad included with product.)

Protec Cleaning Cartridge, PC-1BXN or PC-1C
Keeps your humidifier cleaner, longer. Continuously cleans and protects humidifiers against bacteria and mold for 30 days.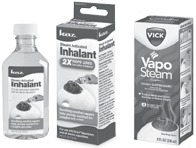 Kaz Inhalant, KFC-4 in U.S, or Vicks VapoSteam VS177LA in Latin America
Can be added to medicine cup area to provide soothing menthol vapors to help provide comfort.
Setting Up Your Vicks Warm Mist Humidifier

Remove From Box. Remove packaging material. Set aside instruction manual. Recycle packaging materials or save for storage.

Remove twist tie from power cord and extend power cord full length. DO NOT OPERATE WITH POWER CORD COILED OR TWIST TIE IN PLACE.

Ensure Proper Assembly. Make sure Mist Chimney and Water Tray are securely in place and the blue latch is engaged.

Select a firm, level location at least 12" (30cm) from any walls. Place the humidifier on a water-resistant surface. Steam should be directed away from any walls, bedding or furniture. Kaz will not accept responsibility for property damage caused by water spillage.

KEEP OUT OF REACH OF CHILDREN.
This product produces HOT STEAM and should be placed in an area not accessible to children or pets with the power cord also securely out of reach.
Filling / Refilling
NOTE: TANK SHOULD BE CARRIED USING TWO HANDS. ONE HAND USING CARRYING HANDLE LOCATED ON TANK'S TOP AND OTHER HAND SHOULD SUPPORT THE BOTTOM OF THE TANK.

Remove Tank by grasping handle and pulling up. Remove Tank Cap located on bottom of Tank by turning counter clockwise.

Fill Tank with cool water. Do not fill with warm or hot water.

Replace Tank Cap by turning clockwise to screw back in place. DO NOT OVER-TIGHTEN. Place Tank back on humidifier base.
RESET: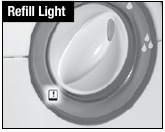 When your humidifier is out of water the refill light will illuminate
Turn the humidifier off, wait 15 minutes, refill Tank, and turn humidifier back on.
Operating Instructions V750 Series

Power: With the power switch in the OFF position (), plug the filled humidifier into a polarized 120V outlet. DO NOT FORCE THE POLARIZED PLUG INTO THE OUTLET; It will only fit one way. DO NOT plug in humidifier with wet hands to avoid electric shock.

Output: Set output control to high () or low (). Indications your humidifier is operating are that the green nightlight on the control knob will illuminate and after 1-2 minutes your humidifier will produce a visible steam.

Humidity Level: Once you have reached a comfortable humidity level your humidifier should be turned to the low setting. A comfortable humidity level is between 40-60%. To monitor your humidity level it is recommended you use a hygrometer such as the Vicks V70 or V70-CAN model. If you notice condensation on the walls or windows you should turn your humidifier off as your humidity level is too high.


DO NOT remove the Mist Chimney, Removable Tray, Water Tank or Medicine Cup when humidifier is in use or for at least 20-30 minutes after unit has been turned off and unplugged.

WHEN MOVING HUMIDIFIER. TURN HUMIDIFIER OFF, UNPLUG and WAIT 20-30 minutes. DO NOT OPERATE YOUR HUMIDIFIER WITHOUT THE TANK IN PLACE OR IF THE UNIT IS EMPTY. DO NOT OPERATE YOUR HUMIDIFIER WITHOUT THE MIST CHIMNEY, REMOVABLE TRAY, OR MEDICINE CUP PROPERLY ASSEMBLED.
Using Liquid Inhalant
Liquid Inhalants such as Vicks VapoSteam® or Kaz Inhalant can be used in the medicine cup. ONLY USE LIQUIDS THAT ARE RECOMMENDED FOR THIS TYPE OF HUMIDIFIER.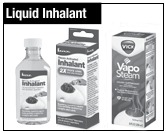 Add 1 TB (Table Spoon) inhalant to the medicine cup.

Note: Some residue from inhalant may be left in medicine cup after use. With the humidifier turned off, unplugged and cooled for at least 20 minutes, gently wipe residue from medicine cup.

DO NOT ADD LIQUID INHALANTS OR ANY ADDITIVES OTHER THAN THOSE RECOMMENDED BY THE HUMIDIFIER MANUFACTURER TO THE WATER. DOING SO CAN HAVE ADVERSE EFFECTS ON THE HUMIDIFIER.
Using Scent Pads

You can use Vicks Scent Pads, VSP-19 series, VBR-5 series, VVP-6 series, VH5-LA with your humidifier to provide up to 8 hrs of soothing vapors.

Open scent pad by tearing notch on top of pad bag. Do not touch pad with hands. If pad is touched, do not rub face as it may cause eye irritation.

Open Scent Pad Door located on rear of unit. Insert scent pad with angled end facing towards the product. Close door.

Your scent pad will last 8 hrs. After 8 hrs., open door, remove old scent pad and discard. If you choose to continue using scent pads, follow steps 2 and 3.
Scent Pad Recommended Usage:
Not recommended for infants under 10 lbs (4.5kg).
For children between 10-22 (4.5kg-10kg) lbs do not use more than 2 pads in a 24 hr period.
Scent Pad Ingredients
VSP-19, VSP-19FP, VSP-19-CAN, VVP-6 & VH5-LA: Eucalyptus Oil, Menthol, Glycol, Cedar Leaf Oil & Others.
Weekly Care And Cleaning
NOTE: All maintenance should be done in the kitchen or bathroom on a water resistant surface.
To properly clean your humidifier we recommend the process of scale removal and disinfecting shown on pages 6 and 7 of this manual.
DISHWASHER SAFE: The following parts are TOP RACK dishwasher safe for residential dishwashers operating at temperatures below 70°C/158°F.

Medicine Cup
Removable Tray
Mist Chimney
Run the dishwasher on the light duty or normal cycle.
Do not wash with soiled articles/dishes. DO NOT USE DETERGENTS. If you use your dishwasher you will not need to follow the disinfecting and scaling procedure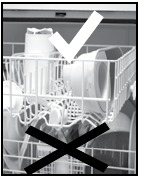 Please Note: Do not place parts on lower rack of dishwasher. Doing so could cause damage to the humidifier parts and dishwasher.
THE MAIN HOUSING AND WATER TANK ARE NOT DISHWASHER SAFE.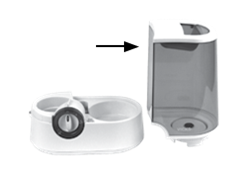 Placing these parts in the dishwasher will damage your humidifier and render it unable to operate properly.
Scale Removal Directions


ALWAYS TURN OFF THE POWER SWITCH AND DISCONNECT THE POWER CORD FROM THE ELECTRICAL OUTLET BEFORE CLEANING. If the humidifier has recently been in use, wait 20-30 minutes for unit to cool before beginning cleaning process.

Remove Water Tank and empty.

Disassemble the Mist Chimney by gently pushing on the blue release latch and pulling upwards.

Remove Removable Tray by pushing on blue Removable Tray Lift Tab and gently pulling tab upwards.

Fill Water Tank and Base with 1 cup of vinegar.

Wipe Mist Chimney, Medicine Cup and Removable Tray with solution.

Soak Heating Element for 15-20 minutes then gently scrub with a soft brush to remove mineral deposits. DO NOT USE HARD BRUSHES, STEEL WOOL OR OTHER HARD ABRASIVES ON THE HEATING ELEMENT. DOING SO WILL DAMAGE THE HEATING ELEMENT. Rinse Tank, Base, Mist Chimney, Removable Tray and Medicine Cup until smell of the solution is gone.

DO NOT IMMERSE BASE IN WATER

To clean the scent pad area, gently wipe out scent pad heater area with a soft damp cloth. DO NOT USE VINEGAR OR BLEACH SOLUTION TO CLEAN THIS AREA.
Follow with disinfecting directions.
Disinfecting Directions - Disinfect Following Scale Removal

Add 1 Teaspoon of bleach to 1 gallon (3.8L) water.

Add ½ to ¾ gallon (1.9L-2.8L)of water/bleach solution to heating element area of the Main Housing and Water Tank.
Follow steps 6 and 7 from the scaling section.
Note: Please be careful of clothing, rugs and other non bleach resistant materials when disinfecting. Spilling bleach on clothing, rugs and certain surfaces may cause damage.
NOTE: USING MORE THAN 1 TEASPOON OF BLEACH PER GALLON (3.8L) OF WATER WILL RESULT IN DAMAGE TO YOUR HUMIDIFIER.
Re-Assembling

Push blue Tab to the open position. Place Water Tray and then Mist Chimney back on the humidifier. Make sure they are sitting securely and blue latch is in the closed position.

Snap Medicine Cup back in place if removed.

Put Tank Cap back on Water Tank and place Water Tank back on unit.
End-Of-Season Care And Storage
When the humidifier will not be used for at least one week or more, or at the end of the season, follow the CLEANING instructions.
At the end of the season, remove any accessories from the humidifier.
Dry the humidifier completely before storing. DO NOT store with water inside the Main Housing Water Reservoir or Water Tank.
Pack unit in original carton and store in a cool, dry location.
Consumer Relations
Email questions or comments to:
Mexico: CustomerService-HOTMX@hotus.com
Other countries: consumerrelations@kaz.com
Tel.: 5511 5767 / 01800 2282022
NOTE: IF YOU EXPERIENCE A PROBLEM, PLEASE CONTACT CONSUMER RELATIONS FIRST OR SEE YOUR WARRANTY. DO NOT RETURN THE HUMIDIFIER TO THE ORIGINAL PLACE OF PURCHASE. DO NOT ATTEMPT TO OPEN THE MOTOR HOUSING OR TAMPER WITH INTERLOCK SWITCH YOURSELF. DOING SO MAY VOID YOUR WARRANTY AND CAUSE PERSONAL INJURY OR DAMAGE TO PROPERTY.
Electrical Ratings
The Vicks V750 Series model is rated at 120 V~ 60 Hz.
Troubleshooting
If your Humidifier is not working properly, refer to the following:
Problem
Possible Cause
Solution

Power Switch is set to "On" and Nightlight is off

Unit not plugged in
No power at outlet

Plug unit in
Check circuits, fuses, test outlet.

Little or no mist is produced

No water in Tank
Unit is not level
Mineral deposits on Heater Element or Removable Tray
Water Tank was washed with detergent

Fill Water Tank.
Place on a level surface.
Follow Cleaning Instructions on Pages 6-8
Rinse thoroughly with clean water.

Reset Light illuminated

Water Tank is empty
Unit not reset after refill

Refill Water Tank
Follow Reset Procedure

Water overflows from Reservoir

Tank may be leaking
Tank Cap is not tight

Check the Tank for leaks and replace if necessary
Tighten Tank Cap

Condensation forms around humidifier or windows

Mist Intensity is set too high for room size or pre-existing humidity level.

Decrease mist output to low setting or open door to the room.
NOTE: Failure to keep this unit clean from mineral deposits normally contained in any water supply will affect the efficiency of operation of this unit. Customer failure to follow these instructions may void the warranty.
Manufacturing Quality Healthcare Products for Over 75 Years
© 2016 All rights reserved.
Kaz USA, Inc., a Helen of Troy Company
Marlborough, MA 01752 U.S.A.
www.kaz.com/vicks
Consumerrelations@kaz.com
Made in China
This product is manufactured by KAZ under license from The Procter & Gamble Company.
Vicks and other associated trademarks are owned by The Procter & Gamble Company.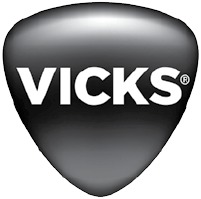 Videos
Vicks Warm Mist Humidifier V750 - Getting Started Video
Vicks Warm Mist Humidifier V750 - How to Clean Video
Documents / Resources
Download manual
Here you can download full pdf version of manual, it may contain additional safety instructions, warranty information, FCC rules, etc.