Black and Decker SF100 Stud Sensor Manual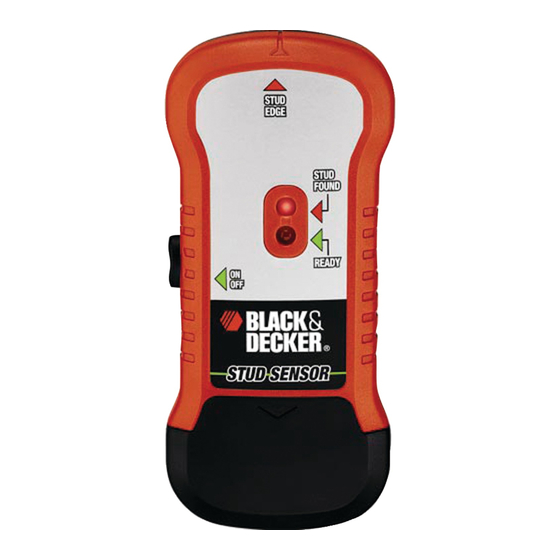 For any technical support, or customer service on this product please call our tech support or customer service team at 877.312.4547 (EST) or send us an email at info@solidsignal.com
www.solidsignal.com
SAVE THIS MANUAL FOR FUTURE REFERENCE.

To reduce the risk of injury, user must read and understand instruction manual.
SAVE THESE INSTRUCTIONS
Safety Instructions
Do not operate the stud sensor in explosive atmospheres, such as in the presence of flammable liquids, gases, or dust.
Use the stud sensor only with the specifically designated batteries. Use of any other batteries may create a risk of fire.
Operating Instructions

Use caution when drilling, nailing or cutting into walls, floors and ceilings which may contain electrical wiring or pipes. These items may be detected by the Stud Finder in the same manner in which studs are detected. Because studs are normally spaced 16 inches or 24 inches apart and are 1-1/2 inches wide, beware of anything closer together or of a different width. Always turn off the power when working near electrical wires.
INSTALLING THE BATTERY
Remove the battery compartment cover (D) by pressing down in the center of the cover and pulling back. Insert two fresh AA batteries making sure to match (+) and (-) terminals correctly. Replace the battery compartment cover.
CALIBRATION AND SCANNING
Hold unit straight up and down and place flat against wall as shown in Figure 2.

Press in and hold the stud sensor ON/OFF button (C).
• The upper red LED (A) will light,
• The unit will beep once while it is calibrating,
• The bottom green LED (B) will light.
Slide sensor slowly, (Figure 3,) horizontally across surface of wall without lifting or tilting.

The upper red LED will light and a beeper will sound when an edge is detected, mark that spot (Figure 4).

Repeat this cycle coming from the other direction and again mark the spot where the upper red LED lights and beeper sounds.
Measure between the two marks made on the wall and the center will coincide with the center of the stud.
TIPS FOR OPTIMUM USE
Test batteries before each use. Press and hold the on/off switch until the green LED lights. Then move your free hand toward the back of the unit. The red light should illuminate and then go out as you move your hand away from the unit. Replace the batteries if the red LED does not illuminate.
Hold stud sensor straight up and down.
Because studs are normally spaced 16 inches or 24 inches apart and are 1-1/2 inches wide, beware of anything closer together or of a different width. Doors and windows are constructed with studs and headers which are closer together.
Metal or wood studs can be detected through up to 3/4" drywall.
Avoid materials which have inconsistent density such as:

Carpeting and padding
Ceramic floor tile
Wallpaper containing metallic foils or fibers. Generally, surfaces covered with regular wallpaper or fabric will scan with no difference in function.
Walls that are freshly painted and are still damp.
Excessively thick plaster and lath.
Maintenance
Use only mild soap and damp cloth to clean the tool. Never let any liquid get inside the tool; never immerse any part of the tool into a liquid.

To assure product SAFETY and RELIABILITY, repairs, maintenance and adjustment (other than those listed in this manual) should be performed by authorized service centers or other qualified service personnel, always using identical replacement parts.

The use of any accessory not recommended for use with this tool could be hazardous.
FEATURES

A.) Red LED ( Light Emitting Diode)
B.) Green LED
C.) On/Off Button
D.) Battery Compartment Cover
TROUBLESHOOTING
Problem
Possible Cause
Solution

Weak battery.
Nothing to detect in that area.
Check mode. May have been calibrated over a stud.

Replace with fresh batteries.
Start again moving farther to either side.

LED lights and sound stay on.

Upper LED lights in RED and sound stays on.

Wall thickness is over 3/4 inch thick.
Voltage of two AA batteries has dropped below 2.2 volts.

Thickness must be less than 3/4 inch to calibrate and work properly.
Replace with fresh batteries.

LEDs light in too many places.

Detects other objects besides studs.
Electrical wiring and metal or plastic pipes may be near or touching back surface of wall.

Because studs are normally spaced 16 inches or 24 inches apart and are 1-1/2 inches wide, beware of anything closer together or of a different width.
FCC Warning
This device complies with part 15 of the FCC Rules. Operation is subject to the following two conditions: (1) This device may not cause harmful interference, and (2) this device must accept any interference received, including interference that may cause undesired operation.
Service Information
All Black & Decker Service Centers are staffed with trained personnel to provide customers with efficient and reliable power tool service. Whether you need technical advice, repair, or genuine factory replacement parts, contact the Black & Decker location nearest you. To find your local service location, refer to the yellow page directory under "Tools—Electric" or call: 1-800-544-6986.
Full Two-Year Home Use Warranty
Black & Decker (U.S.) Inc. warrants this product for two years against any defects in material or workmanship. The defective product will be replaced or repaired at no charge in either of two ways.
The first, which will result in exchanges only, is to return the product to the retailer from whom it was purchased (provided that the store is a participating retailer). Returns should be made within the time period of the retailer's policy for exchanges (usually 30 to 90 days after the sale). Proof of purchase may be required. Please check with the retailer for their specific return policy regarding returns that are beyond the time set for exchanges.
The second option is to take or send the product (prepaid) to a Black & Decker owned or authorized Service Center for repair or replacement at our option. Proof of purchase may be required. Black & Decker owned and authorized Service Centers are listed under "Tools- Electric" in the yellow pages of the phone directory.
This warranty does not apply to accessories. This warranty gives you specific legal rights and you may have other rights which vary from state to state. Should you have any questions, contact the manager of your nearest Black & Decker Service Center.
This product is not intended for commercial use.

Cat No. SF100 Form # 616706-00 (APR-03-1) Copyright © 2003 Black & Decker Printed in China
Documents / Resources
References
Download manual
Here you can download full pdf version of manual, it may contain additional safety instructions, warranty information, FCC rules, etc.