Motorola Sonic Rider SP005 - Bluetooth Car Speakerphone Manual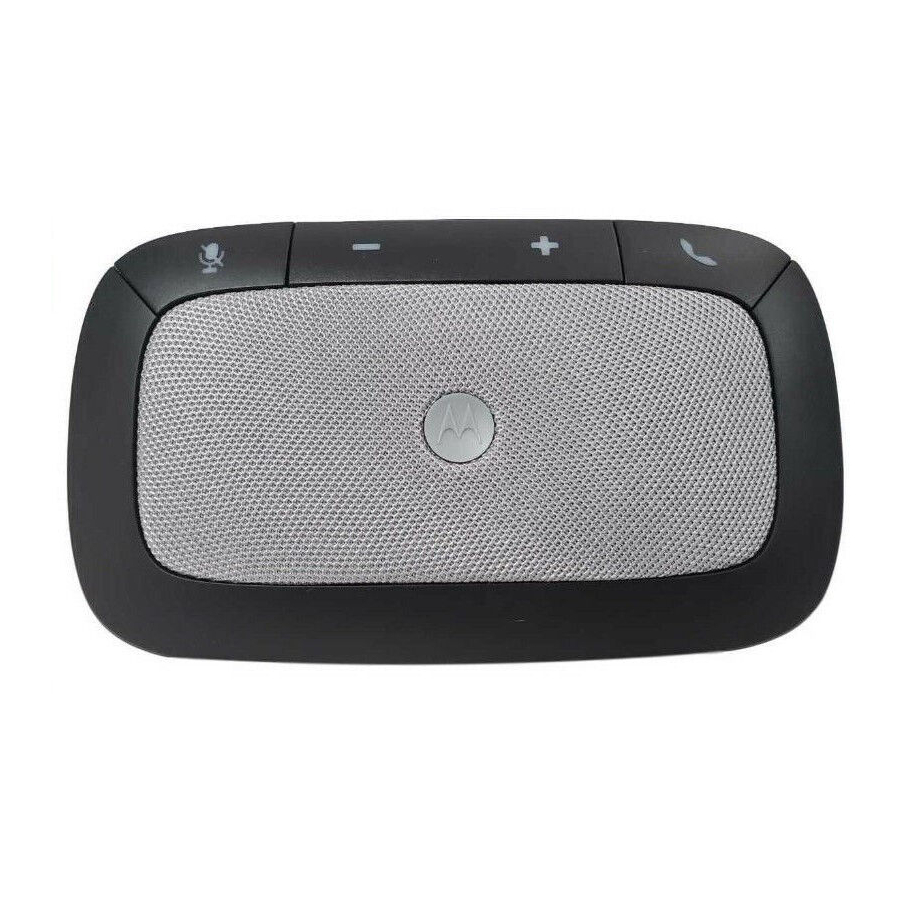 At a glance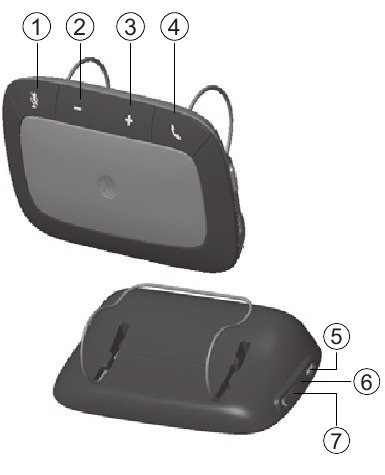 Mute

Volume (-)

Volume (+)

MFB

Micro USB Charging Port

Status Light

Power Switch
Specifications
| | |
| --- | --- |
| Frequency: | 2.402-2.48GHz |
| Maximum RF Power: | 5dbm |
| Working Temperature: | 0°C to 45°C |
Charge
Plug the charging cable into the micro USB port. Red LED lights during charging, and blue LED lights when fully charged.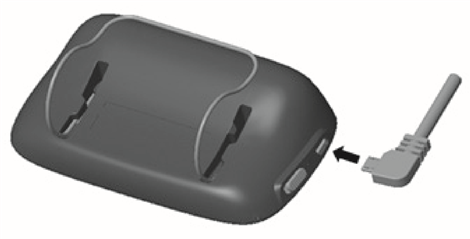 Note: You can use your speakerphone unplugged or while plugged into the charger.
Your battery is designed to last the life of your device. It should only be removed by a recycling facility. Any attempt to remove or replace your battery will damage the device, void your warranty, and could cause injury.
The device can be powered through a micro USB from any CE compliant power source that implement the European interface as requested by EN 301 489-52
Pairing
Turn on Bluetooth on you device.




Turn on the speakerphone. Speakerphone will enter pairing mode automatically with LED flashes blue and red. You will see Green when it is on and Red when off




Go to the Bluetooth menu on you device, Select "Sonic Rider" from the list




When the device and speakerphone connect, you'll hear "connected".



Auto Reconnect
After first-time pairing to a device, speakerphone will auto reconnect to the device when powered on and within Bluetooth range of the device.
Installation
Slide onto car visor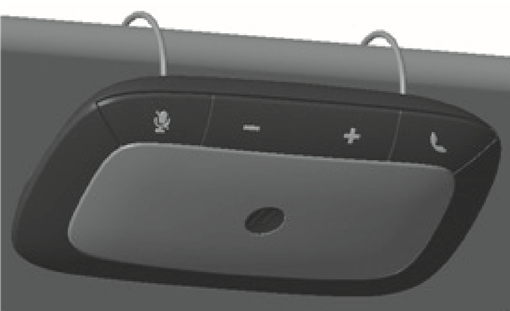 Before installing or using your product, check the local laws regarding mounting and use of equipment.
For safe installation:
Do not put your product in a location that obstructs the driver's vision or interferes with the operation of the vehicle.
Do not cover an airbag.
Buttons Operation
Calls
Answer/end call
Press MFB
Reject a call
Long Press MFB
Mute during call
Press Mute
Re-dial last call
Double press MFB
Call Waiting
Receiving call and reject on going call
Press MFB
Receiving call and hold on going call
Long press MFB
Pair
Clear Pair List
Long press "+' & "- "
Call Volume
Volume Down/Up
Press -/+
(Volume control is not synchronized between speakerphone and device when playing music)
Voice Command
Siri/Google Now
Long Press MFB
LED Status Light
| | |
| --- | --- |
| Charging | Red |
| Fully Charged | Blue |
| Low Battery | Red Flashes |
| Pairing | Red & Blue Flash |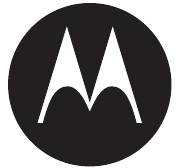 VideosUnboxing Video
Documents / ResourcesDownload manual
Here you can download full pdf version of manual, it may contain additional safety instructions, warranty information, FCC rules, etc.
Download Motorola Sonic Rider SP005 - Bluetooth Car Speakerphone Manual